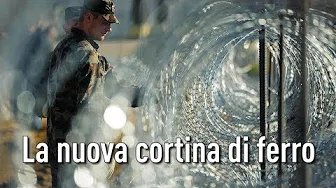 "KRIGSKUNST"
Latvia bygger for tiden et metall-gjerde på grensen mot Russland, 90 kilometer langt og 2,5 meter høyt. Det vil stå ferdig før året er omme, og skal utvides til 190 kilometer av grensen i løpet av 2019 til en kostnad av 17 millioner Euro.
Et lignende 135 kilometers gjerde bygges av Litauen langs deres grense mot russiske Kaliningrad.
Estland har også annonsert forestående bygging av gjerde langs grensen mot Russland. 110 kilometer langt og med tilsvarende høyde på 2,5 meter. Den planlagte kostnaden er mer enn 70 millioner Euro, og den estiske regjeringen har planer å be EU om finansiering.
Ifølge regjeringserklæringene er formålet med disse gjerdene å «beskytte Europas og NATOs yttergrenser». Hvis vi for et øyeblikk ser bort fra ideen om at de trenger «beskyttelse» fra en massiv migrasjonsstrøm fra Russland, gjenstår bare et motiv – EUs og NATOs yttergrenser trenger nå beskyttelse mot den «russiske trusselen».
Ettersom gjerdene som settes opp av de baltiske landene langs grensen mot Russland har tilnærmet null militær effekt, må formålet være fundamentalt ideologisk – et fysisk symbol for at bakom gjerdet lusker en en farlig fiende som truer oss.
Dette er del av en media-politisk PSYOP (psykologisk operasjon) med den hensikt å rettferdiggjøre eskaleringen mellom USA/NATO og Russland. I denne sammenhengen besøkte den italienske republikkens president Sergio Mattarella Latvia to ganger – første gang i juli hvor han besøkte de baltiske landene og Georgia. Under den offisielle middagen i Riga gratulerte han Latvia for å ha valgt «integrasjon med NATO og Den europeiske unionen» og for å ha valgt å «adoptere modellen for et åpent samfunn som er fundert på respekt for rettsstatprinsippet, demokrati og menneskerettigheter i sentrum». Han adresserte kommentaren til den latviske presidenten Raymond V
ē
jonis som allerede i april godkjente et prosjekt for loven som skal forby undervisning i russisk spr
å
k i Latvia, et land hvis befolkning består av nesten 30 % etniske russere, og hvor russisk er hovedspråket til 40% av innbyggerne. Det frihetsberøvende forbudet mot flerspråklighet er anerkjent av EU og vil komme til å diskriminere mot den russiske minoriteten som beskyldes for å være Russlands femtekolonne.
I september to måneder senere reiste president Mattarella tilbake til Latvia for å delta i et uformelt toppmøte med ledere fra Den europeiske unionen som blant andre emner tok for seg cyber-angrep fra «stater som har en fiendtlig holdning» ( med tydelig referanse til Russland).
Under toppmøtet besøkte republikkens president militærleiren
Ᾱ
da
ž
i hvor han m
ø
tte den italienske kontingenten som er del av NATOs utplasserte kampstyrke i Latvia, og som er del av den
«
avanserte fremadrettede tilstedeværelsen» på grensen til Russland. «Tilstedeværelsen er et element som beroliger våre venner i Latvia og de andre baltiske landene», erklærte han – ord som i betydelig grad styrker den psykologiske operasjonen ved å foreslå at der finnes en trussel fra Russland mot de baltiske landene og resten av Europa.
24 september ankommer også pave Frans Latvia for å besøke de tre baltiske landene. Vi vet ennå ikke, om han ved å gjenta «vi må bygge broer, ikke gjerder» kommer til å ha noen innflytelse i sammenheng med det nye jernteppet som deler den europeiske regionen og forbereder folk mentalt på krig. Eller om han ved å legge blomster på «Frihetsmonumentet» kommer til å kreve frihet for unge russiske latviere slik at de kan lære og bruke sitt eget språk.