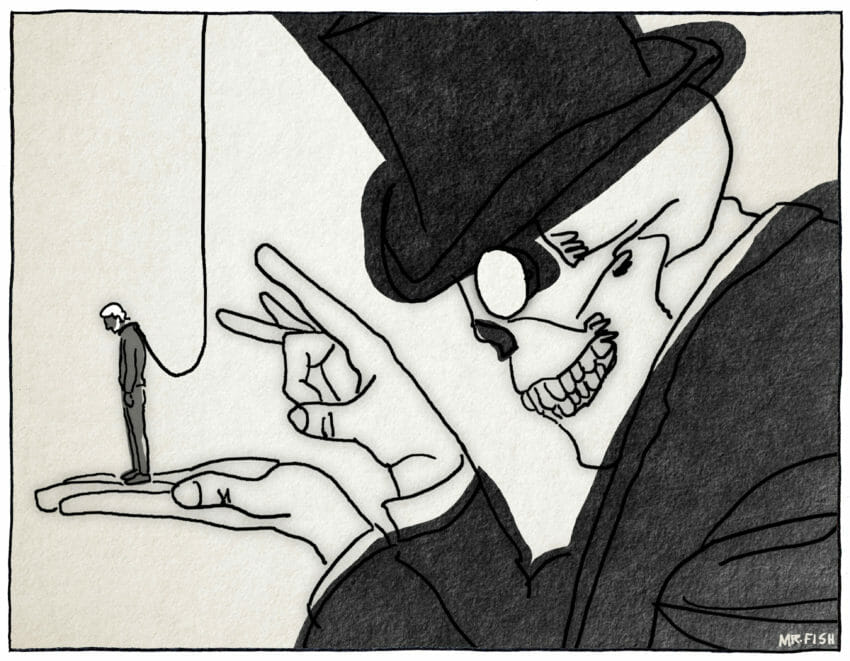 L'échec d'une partie des grands médias à défendre Julian Assange, qui est pris au piège au sein de l'ambassade équatorienne de Londres depuis 2012, à qui il a été refusé toute communication avec le monde extérieur depuis le mois de Mars et qui semble devoir faire face à son expulsion imminente de l'ambassade et à son arrestation, est stupéfiant.
L'extradition de l'éditeur – le but hystérique du gouvernement américain – établirait un précédent juridique qui criminaliserait toute erreur ou enquête journalistique portant sur cet État corporatiste [ou corporatocratie, terme récent utilisé pour désigner un système économique et politique contrôlé par des corporations ou des intérêts corporatifs et financiers, Ndt]. La fuite d'informations et les lanceurs d'alerte relèveraient de la trahison. Les actions menées par les élites régnantes seraient voilées sous le sceau du secret total.
SI Assange est extradé vers les États-Unis et condamné, The New York Times, The Washington Post et toutes les autres organismes d'information, peu importe la façon dont ils couvrent les agissements de la corporatocratie d'État, seraient soumis à la même censure draconienne.
Grâce au précédent établi, la Cour Suprême de Donald Trump pourra alors allègrement procéder à l'arrestation et à l'incarcération de tout éditeur, rédacteur ou reporter au nom de la sécurité nationale.
Des indices grandissants laissent entendre que l'ambassade équatorienne de Lenín Moreno se prépare à expulser Assange et à le remettre à la police britannique. Moreno et son ministre des affaires étrangères, José Valencia, ont confirmé qu'ils négociaient avec le gouvernement britannique pour « résoudre » le problème posé par le sort d'Assange. Moreno, qui sera en visite en Grande-Bretagne dans quelques semaines, désigne Assange sous le nom de « problème hérité » et de « caillou dans la chaussure » et à faire référence à lui en employant le terme de « hacker ».
Il apparaît clairement que sous le gouvernement Moreno, Assange n'est plus le bienvenu en Équateur. Le seul espoir qui lui reste maintenant est l'assurance d'un passage sécurisé vers l'Australie, son pays natal ou tout autre pays qui voudra bien lui accorder l'asile.
« L'Équateur a cherché une solution à ce problème », a commenté Valencia à la télévision. « L'asile n'est pas à durée indéterminée, vous ne pouvez pas vous attendre à ce que ça dure des années sans que nous ré-évaluions la situation, notamment parce que ce serait une violation du droit des réfugiés. »
Le prédécesseur de Moreno, le président Rafael Correa qui a accordé l'asile à Assange au sein de l'ambassade et a fait de lui un citoyen équatorien l'année dernière, a mis en garde Assange que « ses jours étaient comptés ». Il a accusé Moreno –
qui a coupé tous les moyens de communication d'Assange le lendemain du jour où Moreno a accueilli une délégation du U.S. Southern Command
– d'être prêt à « le mettre à la porte de l'ambassade dès que les premières pressions américaines se feraient sentir ».
Assange, dont on dit qu'il est en mauvaise santé, a cherché l'asile au sein de l'ambassade afin d'éviter son extradition vers la Suède où il devait répondre à des questions concernant des accusations d'agression sexuelle. Il a eu peur d'être extradé vers les États-Unis une fois qu'il serait entre les mains de la police suédoise pour répondre à ces accusations, dont il a nié la véracité. Le bureau du procureur suédois a mis fin à son « enquête » et à la demande d'extradition qu'il avait soumis à la Grande-Bretagne en Mai 2017 et n'a pas retenu les charges d'agression sexuelles contre Assange. Mais le gouvernement britannique a fait savoir qu'Assange serait néanmoins arrêté et emprisonné pour violation de sa liberté conditionnelle.
La persécution d'Assange fait partie d'une vaste offensive contre les nouvelles organisations anti-capitalistes et anti-impérialistes. Les élites dirigeantes, qui refusent de prendre leurs responsabilités face aux profondes inégalités sociales ou les crimes commis par l'impérialisme, n'ont plus le vernis idéologique pour justifier leur cupidité, leur incompétence et le pillage. Le capitalisme généralisé et sa justification idéologique, le néo-libéralisme, sont discrédités en tant que force de la démocratie et de l'équitable redistribution des richesses. L'économie contrôlée par les grandes entreprises et le système politique est aussi haï par les populistes de droite que par le reste de la population. Cela rend les critiques du corporatisme et de l'impérialisme – journalistes, écrivains, dissidents et intellectuels sont déjà écartés du paysage médiatique – dangereux et fait d'eux des cibles de premier choix.
Assange est en haut de la liste.
J'ai pris part il y a une semaine, avec des dizaines d'autres personnes dont Daniel Ellsberg,
William Binney
,
Craig Murray
,
Peter Van Buren
,
Slavoj Zizek
,
George Galloway
et
Cian Westmoreland
, à une veille internationale de 36 heures en ligne pour demander la libération pour l'éditeur de WikiLeaks. La veille était organisée par
Suzie Dawson
, leader du New Zealand Internet Party. C'était la troisième veille
Unity4J
organisée depuis la suppression par les autorités équatoriennes de tout moyen de communication d'Assange avec le monde extérieur, ainsi que la suppression de tout droit de visite en Mars, ceci faisant partie de l'augmentation des pressions exercées par les États-Unis sur le gouvernement équatorien.
Depuis le mois de Mars, Assange n'a pu rencontrer que ses avocats et les fonctionnaires consulaires de l'ambassade australienne.
Vendredi, la Cour inter-américaine des droits de l'Homme a jugé que ceux qui cherchent l'asile politique ont le droit de chercher refuge au sein des ambassades et des enceintes diplomatiques.
La Cour a déclaré que les gouvernements sont dans l'obligation d'assurer un voyage hors du pays en toute sécurité à ceux qui ont obtenu l'asile.
Le jugement n'a pas désigné Assange mais il s'agissait d'une forte réprimande à l'encontre du gouvernement britannique qui a refusé d'autoriser le transfert sécurisé du cofondateur de WikiLeaks vers l'aéroport.
Les élites dirigeantes n'ont plus de contre-argument à opposer à ceux qui les critiquent. Ils ont recours à des moyens plus grossiers de contrôle. Ceux-ci incluent la censure, la calomnie et la diffamation (qui dans le cas d'Assange a malheureusement réussi), la mise sur liste noire, l'étranglement financier, l'intimidation, l'utilisation de l'Espionage Act pour emprisonner et étiqueter ceux qui les critiquent et les dissidents comme agents de puissances étrangères et pourvoyeurs de fake news. Les médias établis amplifient ces accusations qui n'ont aucune crédibilité mais qui deviennent une partie intrinsèque du jargon ordinaire à force de répétitions. La mise sur liste noire, l'emprisonnement et la déportation de dizaines de milliers de personnes durant la Peur Rouge des années 1920 et 1950 sont de retour de plus belle.
C'est le nouveau maccarthysme.
La Russie a-t-elle essayé d'influencer le résultat des élections ? Ça ne fait aucun doute. C'est ce que font les gouvernements. Selon le Professeur Dov Levin de l'Université Carnegie Mellon,
les États-Unis ont interféré dans 81 élections
entre 1945 et 2000. Ses statistiques n'incluent pas les nombreux coups d'État que nous avons orchestrés dans des pays tels que la Grèce, l'Iran, le Guatemala et le Chili, ou le désastreux débarquement de la Baie des Cochons à Cuba. Nous avons indirectement financé à hauteur de 2.5 milliards de dollars la campagne de ré-élection du bouffon russe Boris Eltsine.
Mais la Russie a-t-elle, comme le Parti Démocrate l'affirme, fait basculer l'élection présidentielle en faveur de Trump ? Non. Trump n'est pas la marionnette de Vladimir Poutine. Il fait partie de la vague des populistes de droite, allant de Nigel Farage et Boris Johnson en Angleterre à Viktor Orbán en Hongrie, qui ont exploité la rage et la frustration nées d'un système économique et politique dominé par le capitalisme et sous lequel les droits et les aspirations des travailleurs et des travailleuses ne comptent pas.
L'establishment du Parti Démocrate, comme les élites libérales dans la plus grande partie du reste du monde développé, serait balayé du pouvoir dans un processus politique ouvert, libéré de l'argent du capitalisme. L'élite du parti, dont Chuck Schumer et Nancy Polesi, est une création de l'État régit par les grandes entreprises. Le financement des campagnes et les réformes électorales sont la dernière chose que les hauts placés du parti souhaitent défendre.
Ils ne vont pas exiger la mise en place de programmes sociaux et politiques qui pourraient aliéner ces entreprises qui les contrôlent. Cet aveuglement et leur intérêt personnel affiché pourrait assurer à Trump un second mandat, renforcer encore la frange extrémiste loyale à Trump et poursuivre l'érosion de la crédibilité du système politique. Mais le choix qui se pose au Parti Démocrate est clair : l'oubli politique ou endurer le règne d'un démagogue. Ils ont choisi la deuxième option. La réforme ne les intéresse pas. Ils sont déterminés à faire taire toute personne, qui comme Assange, expose la pourriture qui gangrène la classe dirigeante.
L'establishment du Parti Démocrate profite de notre système de corruption légale. Il profite de la déréglementation de Wall Street et de l'industrie des énergies fossiles. Il profite des guerres interminables. Il profite de la limitation des libertés individuelles, y compris du droit à la vie privée et à des procès en bonne et due forme. Il profite d'une police militarisée. Il profite de l'austérité des programmes. Il profite des emprisonnements de masse. Il est un complice de la tyrannie et pas une entrave à celle-ci.
Les démagogues comme Trump, Farage et Johnson n'ont bien entendu aucune intention de changer le système de pillage mis en place par les grandes entreprises. A la place, ils accélèrent ce pillage, comme ça a été le cas avec le passage de la loi sur la réduction massive des taxes américaines pour les entreprises. Ils détournent la colère du grand public vers des groupes diabolisés comme les musulmans, les travailleurs clandestins, les gens de couleur, les intellectuels, les artistes, les féministes, la communauté LGBT et la presse. Ceux qui sont diabolisés sont accusés d'être responsables des dysfonctionnements sociaux et économiques, de la même façon que les juifs ont été faussement accusés d'être responsables de la défaite de l'Allemagne pendant la Première Guerre Mondiale et de l'effondrement économique qui s'en est suivi. Les entreprises comme Goldman Sachs continuent leur massacre financier au milieu de l'effondrement général.
Les titans de ces entreprises qui sortent souvent des universités des plus prisées et qui sont formés dans des institutions telles que la Harvard Business School, trouvent ces démagogues grossiers et vulgaires.
Ils se sentent mal à l'aise face à leur imbécillité, leur mégalomanie et leur incompétence. Mais ils préfèrent souffrir leur présence plutôt que de permettre aux socialistes ou aux politiques de gauche d'entraver leur course aux profits et dévier les dépenses du gouvernement vers des programmes sociaux plutôt que vers les fabricants d'armes, l'armée, les prisons privées, les banques et les fonds d'investissement, l'industrie des énergies fossiles, les écoles privées sous contrat, les forces paramilitaires privées, les entreprises de renseignement privées et les programmes domestiques mis en place pour permettre aux entreprises de cannibaliser l'État.
L'ironie dans toute ça, c'est qu'il y a eu ingérence au cours de l'élection présidentielle, mais pas de la part de la Russie. Le Parti Démocrate, surpassant tous les sales coups auxquels a eu recours Richard Nixon, a écarté des centaines de milliers d'électeurs des primaires, en refusant aux personnes indépendantes des partis politiques le droit d'y voter, en utilisant des super-délégués pour faire pencher la balance électorale en faveur d'Hillary Clinton, en s'appropriant le Comité National Démocrate pour servir la campagne de Clinton, en contrôlant le message diffusé par des grands médias tels que MSNBC et The New York Times, en truquant l'élection primaire de l'État du Nevada, en dépensant les centaines de millions de dollars d'argent « opaque » fourni par les grandes entreprises pour la campagne de Clinton et en truquant les débats des primaires. Personne ne parle de cette ingérence, qui a volé sa nomination à Bernie Sanders qui aurait probablement pu battre Trump. Les hauts cadres du parti ne feront rien pour réformer leur processus corrompu de nomination des candidats.
WikiLeaks a révelé une grande part de cette corruption avec la publication de dizaines de milliers de messages provenant du piratage de la messagerie internet de John Podesta, le président de la campagne Clinton. Ces messages ont mis en lumière les efforts des personnes qui sont à la tête du Parti Démocrate pour contrecarrer la nomination de Sanders et ont révélé les liens étroits tissés entre Clinton et Wall Street, dont les très lucratives conférences qu'elle y a donné. Ils ont également soulevé de sérieuses interrogations à propos de conflits d'intérêts concernant la Fondation Clinton et du fait que Clinton aurait pu recevoir à l'avance des informations concernant les questions qui seraient posées lors du débat des primaires.
C'est pour cette raison que le Comité National Démocrate attise l'hystérie contre la Russie et la persécution d'Assange. Il a intenté une action en justice dans laquelle WikiLeaks et Assange sont appelés des co-conspirateurs à la fois de la Russie et de la campagne Trump afin de truquer l'élection présidentielle.
Mais ce ne sont pas uniquement Assange et WikiLeaks qu'ont accuse d'être des pions de la Russie. Par exemple, le Washington Post qui a pris parti pour le Parti Démocrate dans sa guerre contre Trump a publié sans analyse critique un article concernant une liste noire publiée sur le site internet anonyme PropOrNot. La liste noire contenait les noms de 199 sites internet que PropOrNot soupçonnait sans preuve, « de propager de façon certaine de la propagande russe ». Plus de la moitié de ces sites étaient des sites conspirationnistes d'extrême droite.
Environ 20 de ces sites étaient des plateformes progressistes, dont AlterNet, Black Agenda Report, Democracy Now!, Naked Capitalism, Truthdig, Truthout, CounterPunch et le World Socialist Web Site. PropOrNot, acronyme de Propaganda or Not, accusait ces sites de propager des « fake news » pour le compte de la Russie. Le titre de l'article n'était pas équivoque: « Des experts affirment que les efforts de propagande russe ont participé à la dissémination de "fake news" au cours de l'élection. »
En plus de n'apporter aucune preuve de ce qu'il avance, PropOrNot n'a même jamais révelé qui était derrière le site internet.
Malgré tout, son accusation fut utilisée pour justifier l'utilisation d'algorithmes par Google, Facebook, Twitter et Amazon pour rediriger le traffic loin des sites internet ciblés. Ces algorithmes, surveillés par des milliers « d'appréciateurs » parmi lesquels nombreux sont ceux qui ont été recrutés au sein des appareils militaire, de sécurité et de surveillance, recherchent des mots clés tels que « armée américaine », « inégalité » et « socialisme » en parallèle de noms tels que ceux de Julian Assange et de
Laura Poitras
. Les mots-clés sont connus sous le nom « d'impressions ». Avant l'imposition des algorithmes, un lecteur pouvait taper le nom Julian Assange et être dirigé vers un article sur un des sites ciblés. Après la mise en place des algorithmes, ces impressions n'ont orienté les lecteurs que vers des sites grand public tels que le Washington Post.
Le trafic de référence à partir des impressions de la plupart des sites ciblés s'est effondré, souvent de plus de moitié. Cet isolement sera aggravé par l'abolition de la neutralité du Net.
Tout organe d'information ou de presse qui aborde la réalité de l'échec de notre démocratie et dénonce les crimes de l'empire sera ciblé.

Le rapport de janvier 2017 du Directeur du renseignement national
a consacré sept pages à RT America, où j'ai une émission, « On Contact ». Le rapport n'accuse pas RT America de diffuser de la propagande russe, mais il allègue que le réseau exploite les divisions au sein de la société américaine en donnant du temps d'antenne aux dissidents et aux critiques, notamment les lanceurs d'alertes, les anti-impérialistes, les anticapitalistes, les militants de Black Lives Matter, les militants anti-fracturation hydraulique et les candidats de partis indépendants que les autorités cherchent à museler.
Si les États-Unis avaient un système de radiodiffusion publique ne dépendant pas de l'argent des entreprises ou une presse commerciale qui n'était pas sous le contrôle des entreprises, ces voix dissidentes seraient incluses dans le discours dominant. Mais ce n'est pas le cas. Howard Zinn, Noam Chomsky, Malcolm X, Sheldon Wolin, Ralph Nader, James Baldwin, Susan Sontag, Angela Davis et Edward Said se sont par le passé produits régulièrement à la télévision publique. Aujourd'hui, les critiques de ce genre sont exclus et remplacés par des courtisans insipides comme le chroniqueur David Brooks. RT America a été obligée de s'enregistrer en vertu du Foreign Agent Registration Act (FARA). Cette loi exige que les Américains qui travaillent pour une partie étrangère s'enregistrent comme agents étrangers. L'enregistrement au FARA s'inscrit dans le cadre d'une attaque plus large contre tous les médias indépendants comprenant l'effort pour réduire Assange au silence.
La publication par WikiLeak en 2017 de 8 761 dossiers de la CIA, connus sous le nom de Vault 7, semble être la dernière indignité. Vault 7 comprenait une description des cyber-outils utilisés par la CIA pour pirater des systèmes informatiques et des dispositifs comme les smartphones. Joshua Adam Schulte, ancien ingénieur informaticien de la CIA, a été inculpé de violation de la loi sur l'espionnage pour avoir prétendument divulgué les documents.
Après la publication de Vault 7, les États-Unis ont considérablement accru leurs pressions sur le gouvernement équatorien pour qu'il isole et expulse Assange de son ambassade.
Mike Pompeo, alors directeur de la CIA, a déclaré en réponse aux fuites de documents que le gouvernement américain "ne peut plus laisser à Assange et ses collègues la latitude d'utiliser des valeurs comme la liberté d'expression contre nous. Le procureur général Jeff Sessions a dit que l'arrestation d'Assange était une « priorité ».
Il nous appartient de nous mobiliser pour protéger Assange.
Sa vie est en danger. Le gouvernement équatorien, en violant ses droits fondamentaux, a transformé son asile en une forme d'incarcération.
En lui coupant l'accès à Internet, il l'a privé de sa capacité à communiquer et suivre les événements du monde extérieur. Le but de cet isolement est de faire pression sur Assange pour qu'il sorte de l'ambassade et soit arrêté par la police londonienne, jeté dans une prison britannique, puis remis entre les mains de Pompeo, John Bolton et Gina Haspel, la tortionnaire en chef de la CIA.
Assange est un éditeur courageux et intrépide qui est persécuté pour avoir dénoncé les crimes de la corporatocratie et de l'impérialisme. Sa défense est à la pointe de la lutte contre la suppression par le gouvernement de nos droits démocratiques les plus importants et fondamentaux. Le gouvernement du premier ministre australien Malcolm Turnbull, où M. Assange est né, doit subir des pressions pour lui assurer la protection à laquelle il a droit en tant que citoyen australien. Il se doit d'intervenir pour mettre fin à la persécution illégale du journaliste par les gouvernements britannique, américain et équatorien.
Il doit assurer son retour sain et sauf en Australie.
Si nous ne protégeons pas Assange, nous ne nous protégeons pas nous-mêmes.
Traduit par les lecteurs du site
www.les-crises.fr
.
Traduction librement reproductible en intégralité, en citant la source.