Putin takes part in Valdai club's final session

LIVE UPDATES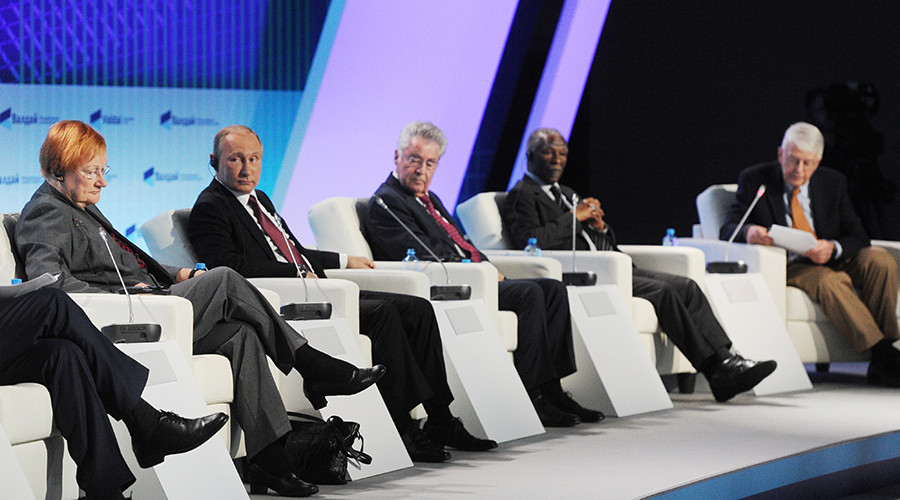 16:53 GMT

Question: Do you think that further development of the Russian economy requires an overhaul of the political system? And a second question: do you think anti-American nuclear rhetoric on a Russian state channel is appropriate?

16:48 GMT

Putin:

Everyone wants to defuse geopolitical tensions. But it should be done by obliterating us, should it?

They only act at the expense of our interests. They state a position they like and only work on making us accept it.

Anti-Russian sanctions would still be there without Crimea or Ukraine. They would have found other pretexts to target Russia.

16:47 GMT

Question: Don't you think Russians, especially the wealthy ones, want you to defuse geopolitical tension?

16:45 GMT

Putin:

We were not the ones who put us in this position. We were open for dialogue, not unilateral moves that the US took.

And there is a difference. Take Crimea and Kosovo. Kosovo separated from Serbia after a bombing campaign. In Crimea nobody died. And in Crimea the parliament voted on it, unlike in Kosovo.

If you don't want us to act in a certain way, stop provoking us.

16:42 GMT

Question: The Americans may say that Putin criticizes the US to deflect criticism directed at him. The wording you use is so much like that used against you. Don't you think it hurts dialogue?

16:39 GMT

Question: Why do you take part in the Valdai club, taking time to talk to the expert community?

16:38 GMT

Putin:

About the rebels, this is a violation of the basic principle of settling conflicts. Ukraine insisted that the rebels signed the Minsk agreement and now refuse to talk to them. This makes no sense to me.

16:37 GMT

Question: Would we have won World War II if we and other Allies had constantly told each other that we are doing the fighting wrong? And another one, why don't the Ukrainian rebels take part in negotiations on their fate?

16:34 GMT

Putin:

We have no such plans.
16:34 GMT

Putin:

We have no such plans.

16:34 GMT

Question: Would Russia use its military to intervene on a request from Libya or Iraq?

16:33 GMT

Putin:

In this case setting a deadline would not be beneficial. It took us and China 40 years to settle our territorial disputes. We are not there with Japan yet, of course, but going in that direction is in Russia's national interest.

Japan and Russia should work together on this issue. Our diplomats will do their part.

16:31 GMT

Question: When do you think Russia and Japan will reach a point when the two countries would be able to sign a formal peace treaty?

16:30 GMT

Putin:

We would value it more, if it were not so unilateral. We both destroyed our silo-based missiles. But this treaty does not apply to naval and air-to-ground missiles, which Russia did not have and which the US does.

Our neighbors produce such missiles too. So sticking to the INF was somewhat challenging for us. Now it's easier as we have such weapons too.

16:28 GMT

Question: Does Russia value the intermediate-range missile treaty?

16:26 GMT

Putin:

I believe the main question for future historians would be how we managed to unify around our common national goals. People are the ones writing history, not some individual. And they will choose the next leader of Russia.

16:22 GMT

Question: How do you see your place in the future history schoolbooks of Russia? And who would be the centerpiece of the next chapter in them?

16:22 GMT

Putin:

What I care about is having the Russian parliament adopt the budget for the next year. Solving Russia's problems is what gives it a stronger position in the world. Not some mythic individual power some people depict me having.

16:21 GMT

Question: How do you feel being depicted as the most powerful and dangerous man in the world by some magazines?
16:20 GMT

Putin:

We are concerned with the situation in Ukraine. Our experts have fine knowledge of the Ukrainian energy system, which was part of a unified system of the USSR. Ukraine didn't pump enough gas into gas storage facilities to ensure transit of Russian gas to Europe and is currently pumping the gas out.

Russia can supply gas to Ukraine, provided that Ukraine can pay. Russia doesn't ask Ukraine to pay a higher price than it does other customers. Ukraine says it prefers to buy Russian gas from European countries, claiming it is better. Apparently, the intermediaries are very dear to people taking such decisions in Ukraine. We are fine with it, as long as the transit of the gas is not disrupted.

16:15 GMT

Question: There is concern about gas supply issues every winter. What is the state of Russian gas supplies to Ukraine?

16:14 GMT

Halonen: Russia was different 25 years ago, the EU was different 25 years ago. The lesson we can learn is that we should have invested more into not only in the expansion of the EU but also into what happened after the expansion.

16:12 GMT

Putin:

The expectations were great after the USSR became more open and the ideological differences were set aside. But there are more fundamental things than ideology: geopolitical interests.

Things could have been done better. Europe could have implemented a new security system, which would have included former members of the Warsaw pact. But there was no political will to do it.

But as the real balance of power changes in the world, the practice of international politics will become more balanced and fair.

16:09 GMT

Questing: Philosophically speaking, what lessons should be learned from the last 25 years?

16:09 GMT

Putin:

The idea of a police mission was suggested by President Poroshenko when the authorities in Donbass were mulling having elections. I supported him. Other members of the process didn't because the OSCE has no record for conducting such missions and that arming OSCE monitors may provoke violence.

OSCE's strength is in the respect its commands, not in having arms, critics said. Poroshenko thinks otherwise and I supported him. But the proposition needs to be worked on.

Halonen: Indeed, I don't remember a president of an armed OSCE mission. This needs to be researched.

16:05 GMT

Question: The terms for renewing the plutonium deal would practically give Russia a retraction of everything the US did since Gorbachev. Do you think you can see it happen?

16:05 GMT

Question: Did you agree to an armed police mission in Ukraine, as officials in Kiev claim you did?

16:05 GMT

Putin:

The conditions are just words of paper. What the US did is a very serious violation of an important security deal.

16:02 GMT

Putin:

We discussed whether it would be possible to stop Russian and Syrian attacks on terrorist positions in Aleppo to allow so-called healthy opposition be separated from the Nusra Front group. The Americans acknowledged that such separation needs to be done and promised to do that. Then we were supposed to attack terrorist territories together with the US.

They promised this multiple times on various levels, but never delivered. In China, President Obama suggested that we would take a seven-day pause to give the Americans time to separate the moderates and the terrorists. I won't disclose the details, but I eventually agreed to it.

But the fact is that the Americans derailed that ceasefire. The ceasefire started on the 12th (of October) and on 17th the Americans attacked the Syrian troops. They said it was a mistake. But the ceasefire was broken, and it was not our fault. As for Obama's promises, ask him.

By the way, today is the ninth day when Russian and Syrian planes don't bomb Aleppo. So where is the separation of the rebels and the terrorists?

We only hear accusations from the Americans. We are calm and don't answer these American accusations, but everything has its limits.
15:57 GMT

Question: Can you comment on your reported discussion of the situation in Syria with President Obama in China?

15:56 GMT

Putin:

We respect property rights and are working on the remaining issues which Russia has in this regard. We respect our foreign investors, including President Poroshenko. His business had some problems with taxation, but as far as I know, the business is profitable.

15:54 GMT

Putin:

What is good for Russians is good for Russia. But promoting Russian interests at any cost is wrong. A nation must respect other nations and adhere to common rules for the world.

The gap between elites and their peoples are a major factor in today's problems, but not the only one, of course.

15:54 GMT

Question: What are your comments on the business of Ukrainian President Petro Poroshenko in Russia?

15:52 GMT

Question: How do you see the national interest of Russia?

15:50 GMT

Putin: Of course the world in the future will not resemble the past. Look at how China changed in 60 years. Look and how the Soviet Union ceased to exist. Listen to what Mr. Mbeki says about the future of Africa.

The question here is whether we would find wisdom to overcome the differences we have. My hope is that small countries would have a say in it and that the global rules would be applied to everyone.

As for our relations with other countries, we will build them on the principles of equality and respect.

15:47 GMT

Question: There were multiple systems regulating global relations. Do you think the future system would resemble the old one and what features should we try to take into the future? What would be the places of Russia, the US and China in it?

15:45 GMT

Putin: We are a single people, which was divided and set against each other. This is our fault for allowing it. I think we can overcome this division.

15:44 GMT

Question: Do you think that Russia and Ukraine today can be described by your phrase of 2014: two countries, one people?

15:43 GMT

Putin: Russia's interest in Asia is natural, considering its geographic position, not a reaction to a souring relationship with the West. Benefiting from dealing with China or India is a sensible thing to do for Moscow.

As for a unipolar Asia, leaders of the Asian nations are wise enough to pursue cooperation rather than confrontation. Asia has too many differences to become unipolar.
15:41 GMT

Question: Is Russia concerned that its pursuit of a multipolar world may result in a unipolar Asia?

15:40 GMT

Putin: We suspended the deal, we didn't withdraw from it. Unlike the US, which withdrew from the Antiballistic Missile Treaty.

The US violated the terms of the deal citing financial reasons. They did it unilaterally without our consent. We may have financial concerns, but we did everything we were obliged to – we built a reprocessing plant, we are destroying the plutonium.

The US doesn't hold its end of the bargain. The same thing happened in Syria. When the new president is elected in the US, we'll see if we can deal with them better.

15:37 GMT

Question: Russia withdrew from a plutonium reprocessing deal with the US and said it would renew it only on several conditions, including the withdrawal of NATO and compensations for anti-Russian sanctions. Would Russia pressure on these conditions with the new US president?

15:36 GMT

Putin:

The Minsk agreement states that 30 days after its signing the Ukrainian parliament should pass a decree outlining the borders of the rebel-held areas. It was adopted, even if late. But later the Ukrainian side adopted an amendment, which said the decree would go into force only after municipal election in the rebel areas. They didn't agree this with the rebels. That is a key stumbling block in the Minsk process.

A year ago in France Germany suggested a compromise – the decree would come into force on the election day, subject to confirmation by the OSCE monitors. That was not what the Minsk agreement said, but Russia pressured the rebels to agree on that.

Ukrainian President Poroshenko tried to change even that in Berlin. German Chancellor Merkel found the right words to convince him to drop that demand. That seems to be all.

At least we agreed most of the security issues. Humanitarian issues remain disputed, and the world turns a blind eye on the fact that the rebel areas in Ukraine are in a blockade, by the way. But Russia doesn't make a fuss about it.

As for involving the US, Russia would not object, but the Normandy Four agreed that the US would be involved in other formats.

15:30 GMT

A question from the Valdai audience: The result of the Normandy Four over the Ukrainian meeting in Berlin was interpreted differently by the parties involved. What's your comment? Is the Normandy Four efficient and can it be improved by including the US?

15:28 GMT

Putin says it was up to the US how to react to Russia's information. Russia archived the case after the Americans rejected our concerns. Probably, if there was more trust and cooperation, the bombing incident might have ended another way, Putin said.

There are examples of good cooperation with the Americans over security, like the Sochi Olympic Games. Russian intelligence has good relations with the Europeans. It could be better of course, Putin said.

15:27 GMT

Question from the audience: Speaking about the Boston marathon bombing [of 2013]. Russia provided evidence against the perpetrators, but this tip was ignored. Does it indicate a failure in communication?

15:25 GMT

The idea that Russia favors a particular candidate in the US election is an invention of Hillary Clinton supporters,

Putin believes.

They took Russia, spread the message that it is America's enemy and claimed that Russia favors Donald Trump. That is nonsense and part of campaigning,

he said.

We don't know what to expect from either Trump or Clinton,

Putin added

. We welcome statements that US-Russian relations should be improved from anyone.

Trump's popularity apparently indicates that

the US public is tired of American elites

, a notion that the candidate exploits,

he said.

Whether he would win the election and live up to those expectations is to be seen.

15:22 GMT

Question: What candidate in the US election is favored by Russia, if any? What does Russia expect from the next US president?

15:21 GMT

President Putin believes that cyberattacks against sovereign nations are unacceptable. This is true for election systems as much as other targets. Preventing them is only possible by agreeing on rules that would be respected by all nations and the enforcement of which could be monitored.

This goal should not go against online freedoms, but the record of online crime fighting indicates that it can be done, Putin added.
15:19 GMT

A question from the audience: There is concern over cybersecurity and the use of cyberoffensive operations for political gain. Many support the notion that nations should not use such actions against each other. Should election systems be considered crucial infrastructure and what rules should be applied to cyberwarfare?

15:15 GMT

Aleppo and Yemen are both publicized issues, Halonen said, responding to Putin's remark, but they are not black-and-white issues, she said.

15:13 GMT

Russia believes that defeating terrorists despite civilian causalities is right, because the alternative is to leave terrorists in power. Israel always takes the fight against terrorism to the end,

Putin remarked.

15:12 GMT

Putin reiterated his comments about the US, saying it has a habit of violating the authority of the UN Security Council to attack sovereign nations. Destruction of statehood of Iraq, Libya or Syria was the cause of the rise of terrorism in the Middle East,

he said.

Blaming Russia for civilian deaths in Aleppo while ignoring the fact that the city came to its pitiful state because of the destabilization of the region is not right, he added. Neither is singling out Aleppo while failing to mention civilian deaths in Iraq or Afghanistan or Yemen,

he said.

15:06 GMT

Fisher mentioned the EU's problems in adopting a trade deal with Canada created by the Belgian region of Wallonia. Putin said the irritation over the obstruction may be understandable, but it shouldn't be a reason to change the rules as they go along, rather than properly redistributing authority among national governments and Brussels through democratic mechanisms.

Brussels currently imposes more executive decisions on EU members than the central government of the Soviet Union did over member republics, Putin added.

15:02 GMT

Global security, global development and global protection of human rights cannot be achieved outside of the United Nations, Mbeki believes. The world is multipolar, and the UN should be exercising this multipolarity in practice.

The UN Security Council does not reflect this multipolar world and should be reformed, he said. Russia, being a permanent member of the council, may be opposed to such a reform, he added, but this needs to be done.

More representation is needed in global institutions to promote respect to those institutions, as President Putin said earlier, Mbeki said. If it were done, we wouldn't have the catastrophe in Libya, for example, he said.

14:57 GMT

Wrongly constructed institutions may be part of the problem, but mostly institutions are neutral, Fischer said.

The example of the EU shows that more centralized power is necessary to overcome the challenges the union is facing. But this is something that many people in the EU don't like about it, feeling that it compromises their national autonomy. This has to be taken into account, he added.

As for the UN, the Security Council, an institution created over 70 years ago, may require a new structure that would allow it to be more efficient in modern world. Such a reform would be challenging, of course, as there is no common view on it, Fischer added.

14:54 GMT

Nation states have their weaknesses as well as their strengths, said Tarja Halonen, former Finnish president. The UN sustainable development goals are directed on transnational institutions like corporations while the earlier UN Millennium goals were directed at national governments. A gradual progress of the sustainable development plan indicates that it may be the right way.

14:51 GMT

A system of international law respected by all nations, as Thabo Mbeki said, Putin believes - in answer to the question from the moderator (see previous update).

The UN has been increasingly sidelined from world affairs, and now those who violated the UN rules are calling for them to be respected. Universal rules protecting nations from use of force are necessary.

14:49 GMT

Moderator Timothy Colton has asked: What should be the priority for changing the world for the better? What kind of international institutions should be created or reformed or empowered?
14:46 GMT

All panel members have finished their speeches and the discussion section is now beginning.

14:45 GMT

A world based on hegemony, be it the bipolar world of the Cold War or the unipolar world with the US in charge that came into existence after it, is unfair towards developing nations such as those in Africa,

former South African President Mbeki said.

Returning to the spirit of equality as envisioned in the UN Charter is essential for the universal development of nations, he added.

14:42 GMT

Excluding the African continent from the global effort to tackle world problems and leaving it behind would result in a failure to build a safe and peaceful world, Mbeki said.

14:40 GMT

From poverty to security, Africa confronts some of the gravest problems of today, a fact recognized by the international community, Mbeki said.

14:39 GMT

Former South African President Thabo Mbeki said he intends to represent African views on world affairs at the Valdai forum. Development of Africa is a major part of the UN-endorsed plan for global 2030 development, a document that the other three speakers referred to in their speeches.

14:36 GMT

Fischer said democracy, even if it cannot be measured by any instrument, is an important factor in a nation's policy. Commitment to democracy and commitment to peace go hand in hand, he said.

14:35 GMT

Despite the criticism mounted against it, the UN's work has a record of successful outcomes, like the signing of the climate change agreement in Paris.

The UN must keep its leading role in tackling world problems, Fischer believes.

14:33 GMT

The war in Syria has lasted longer than World War One or Nazi Germany's invasion of the Soviet Union,

Fischer

said.

The conflict in Syria has poisoned relations between nations that don't even border it.

A similar situation on a different scale is happening now over the Israeli-Palestinian conflict, he added. The current Israeli government prioritizes Israel's security over peace, and with such an attitude peace cannot be achieved, Fischer said.

14:30 GMT

Europe's relationship with Russia has not developed in the way hoped for 25 years ago, Fischer said. Things like NATO expansion or the use of military force by Russia are seen differently from Moscow and from Brussels.

14:28 GMT

There are two views of humanity's history, said Heinz Fischer, former federal president of Austria. One says we are descending from a golden age of the past to increasing chaos. The other says that humanity rose from the chaos of the past to a state in which the reasons for old conflicts have been eliminated. Neither appears to be true.

Today, a period of high hopes amid the unification of a divided Europe has been replaced with a period of fear and conflict. History alters between times of progress and times of disarray, he said.
14:22 GMT

The hostilities in Syria, Yemen and other places must be stopped, Halonen said. We should rise up and be better people, she added.

14:20 GMT

The increasingly hybrid nature of modern conflict leaves vulnerable people such as children and women exposed to violence. This is unacceptable, Halonen said.

14:19 GMT

Political leaders must deliver on their promises to better promote human potential, fight poverty, gender inequality and other issues, former Finnish President Halonen said.

14:17 GMT

The 'new world order' as envisioned during Mikhail Gorbachev's times has failed to fully materialize, Tarja Halonen said. The international community is failing to tackle some of the crises it faces today.

14:12 GMT

The foundations of a better, fairer world should be laid today,

Putin said.

Only a world where all people would have a chance to live long, healthy and creative lives and not merely need to survive can be stable in the long run,

he said.

14:09 GMT

Regional development appears to be a general trend today, Putin said, but regional rules should not go against global ones.

Russia's regional economic integration is based on this principle.

14:08 GMT

Russia's priority in the world today is to allow individual nations to develop without pressure from abroad, Putin said.

All nations should genuinely fight terrorism and not see it as a political tool. One nation's security should not be achieved by compromising another nation's security. The world economy should be governed by fair rules which allow developing nations to close the gap with developed ones.

14:06 GMT

'Globalization for a select few' must be replaced by globalization for all people, Putin said.
14:04 GMT

Putin believes people taking decisions in the West have an irrational urge to repeat the same mistakes again and again rather than learn from mistakes.

This is evidenced by how Russia's cooperation with the US to stop violence in Syria was derailed by

"forces in Washington,"

which apparently want to use extremist forces to pursue their geopolitical goals.

14:00 GMT

The accusations that Russia is supporting fringe movements in other nations through 'propaganda' are ludicrous, Putin said. Russia

"so far doesn't have a propaganda machine comparable to that of the West,

"

he said.

13:58 GMT

Putin

said the elites in the West are increasingly detached from their people, as evidenced by the surprising outcomes of referendums held lately and the growing popularity of political forces which were considered to be on the fringes of society a decade ago.

13:57 GMT

Another example is the 'hysterics' in the US over alleged attempts of Russia to use hackers to influence the upcoming presidential election, Putin said. It spares American politicians the necessity to debate real issues concerning the Americans like police brutality. Putin added he doubted that any hacking could influence the choice of the American people.

"America is a great nation, not some banana republic. Correct me if I am wrong," he said.

13:54 GMT

The West uses non-existent threats for its own benefit, such as presenting Russia as an aggressor, Putin added. This allows more taxpayer money to be taken for military spending, making other countries toe the line, and justifying the expansion of NATO, among other things. The so-called Russian aggression was invented and is not based in reality, Putin said.

13:53 GMT

The rules today are being reshuffled all the time and things that were perceived as true and undisputed in the past are tossed away for momentary benefits, Putin said. Examples include bombing other nations such as in the former Yugoslavia or Iraq, sending arms to militant groups, and sidelining the World Trade Organization and its rules for the sake of getting advantage in international trade.

13:50 GMT

The globalization project is in peril, as is multiculturalism, as evidenced by the mood in Europe, Putin said. He believes the problems of the present stem from the decisions taken in the 1990s, when the West preferred to impose its own laws and culture on other nations rather than seek cooperation.

"They wanted globalization for their own benefit," he said.
13:44 GMT

The Russian president is the key speaker of the panel. Sitting alongside him are Tarja Halonen, former president of Finland, Heinz Fischer, former federal president of Austria, and Thabo Mbeki, former president of South Africa. The panel is moderated by Timothy Colton, professor of government and Russian studies, Harvard University.

08:30 GMT

The Valdai Club is a traditional venue for international experts to discuss global problems with senior Russian officials, beginning with the president. This year's three-day gathering involves 130 foreign visitors from 35 countries.

08:30 GMT

In addition to Putin, the host party includes Russian Foreign Minister Sergey Lavrov, his deputy for the Middle East and Africa, Mikhail Bogdanov, Deputy Prime Minister in Charge of the Ec

onomy Igor Shuvalov, and other officials.

08:30 GMT

The Valdai Club has been held annually since 2004.