With country at risk of becoming a failed state, Kiev must recognise that economic survival depends on Moscow not the west
By
Prof. Nicolai N. Petro
In January Ukraine's president, Petro Poroshenko, congratulated the country on surviving its first winter without buying Russian gas. It had instead bought European gas which, as Poroshenko pointed out proudly, was 30% more expensive.
This sums up the core problem facing the Ukrainian economy. It is not corruption, a serious issue about which little can be done in the short term, but the ideologically driven choice to sever all ties with Russia, the country that has historically been its major trading partner and chief investor.
By severing banking ties with Moscow, Kiev has denied itself investment and a vital economic lifeline – the remittances sent back home by zarobitchane, Ukraine's migrant workers. Up to seven millionUkrainians have sought work in Russia, sending back $9bn in 2014 – three times the total foreign direct investment Ukraine got last year.
Reckless government borrowing has exacerbated the problem. The government was able to write off 20% of its Eurobond debt last October, allowing it to negotiate for the next IMF loan tranche which was expected in December but still not been received.
But the draconian terms imposed for this small beer are often overlooked. Ukraine will be repaying this debt until 2041, with future generations giving western creditors as much as half of the country's GDP growth, should it ever reach 4% a year.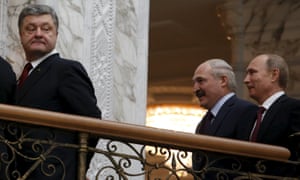 There is a common thread that links the government's irrational economic behavior – the understandable desire to spite Vladimir Putin. Alas, it is the average Ukrainian citizen who pays the price.
There can also be no doubt that Poroshenko approves of this approach. In his first speech of 2016 he announced new priorities for the Ukrainian economy. The government intends to end subsidies to manufacturing and industry, and instead promote investment in information technologies and agriculture.
It is not at all clear, however, where he will sell this produce, since by signing a free trade agreement with the EU, Ukraine lost its preferential access to its largest market, Russia.
Meanwhile, EU rules restrict Ukraine's exports to Europe, which fell 23% in 2015 despite the preferential tariff regime that was in place for most of last year. For example, only 72 Ukrainian companies are allowed to export food of animal origin to the EU: 39 of the licences are for honey. While that may sound like a lot of honey, Ukraine exported its yearly quota for honey in the first six weeks of 2016. A similar story holds for other commodities.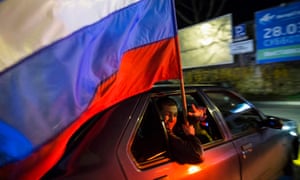 Another favourite argument of the current government is that Ukraine simply has no choice but to respond to Russian aggression by imposing its own sanctions. The beauty of this argument is that, while it may not make economic sense, it makes a great deal of political sense for those now in power.
The destruction of Ukraine's industrial base, which is heavily concentrated in the east, shifts the balance of economic and political power to the western regions, permanently marginalising opposing political voices. The advantages are clear. Fostering a sense of perpetual crisis allows the current government to argue that it must remain in power, to see its policies through. The only uncertainty is whether such a strategy can bear fruit before the country's economy collapses.
This is not a policy that the west can endorse. Regardless of political sympathies, no western government should tolerate the deliberate impoverishment of the population for political gain. The risks of Ukraine becoming a failed state, and adding millions more to Europe's burgeoning refugee crisis, are simply too high.
The best way to avoid such an outcome is to recognise that Ukraine's economic survival depends not on western bailouts but on the renewal of Russian investment there. Western policymakers should insist that economic rationality take precedence over economic nationalism, and make that a condition of assistance.
Until that happens, it is hard to imagine anyone investing in Ukraine's future, including its own people.
Nicolai Petro is an academic specialising in Russian and Ukrainian affairs, currently professor of political science at the University of Rhode Island. He spent 2013-2104 as a US Fulbright Scholar in Ukraine