Trevor Paglen's installation at London's Gloucester Road tube features idyllic landscape with monitoring station in background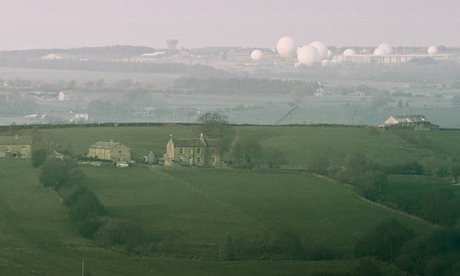 'If we look in the right places at the right times, we can begin to glimpse America's vast intelligence infrastructure,' says Trevor Paglen of his latest work. Photo: PR
A shimmering image of a
Yorkshire
landscape, lush green fields spread out under a pinky grey sky, will be installed along the entire 62-metre length of the platform wall at Gloucester Road tube station in
London
this week. Those with time between their trains may start to wonder about the strange white buildings in the distance and gradually realise that the scene is not the rural idyll it first appears.
The creator of the image, US artist and author Trevor Paglen, describes it as in the tradition of landscape painting by artists such as Constable, Turner and Gainsborough – but there's more to it than homage to the Old Masters.
Titled An English Landscape (American
Surveillance
Base near Harrogate, Yorkshire), the giant photograph shows
Menwith Hill, an RAF base,
which has become a huge monitoring station supplying intelligence to the UK and the US.
Paglen, whose book Blank Spots on the Map: the Dark Geography of the Pentagon's Secret World, looked at the world of state intelligence-gathering, was struck by how little visual evidence there was of the international web of security surveillance
uncovered by Edward Snowden
and other whistleblowers.
Theirs need not be an invisible world, Paglen writes: "Digital surveillance programs require concrete data centres; intelligence agencies are based in real buildings; surveillance systems ultimately consist of technologies, people, and the vast network of material resources that supports them. If we look in the right places at the right times, we can begin to glimpse America's vast intelligence infrastructure."
The London installation was an unusual commission for the
Art on the Underground programme
, which has in the past commissioned brilliantly colourful works to cheer up the wall of the disused platform.
Louise Coysh, the programme manager, said: "Art on the Underground is delighted to bring an artist of Trevor Paglen's standing and importance to our flagship site. I've no doubt this work will stimulate thought and debate during the rush-hour commute."