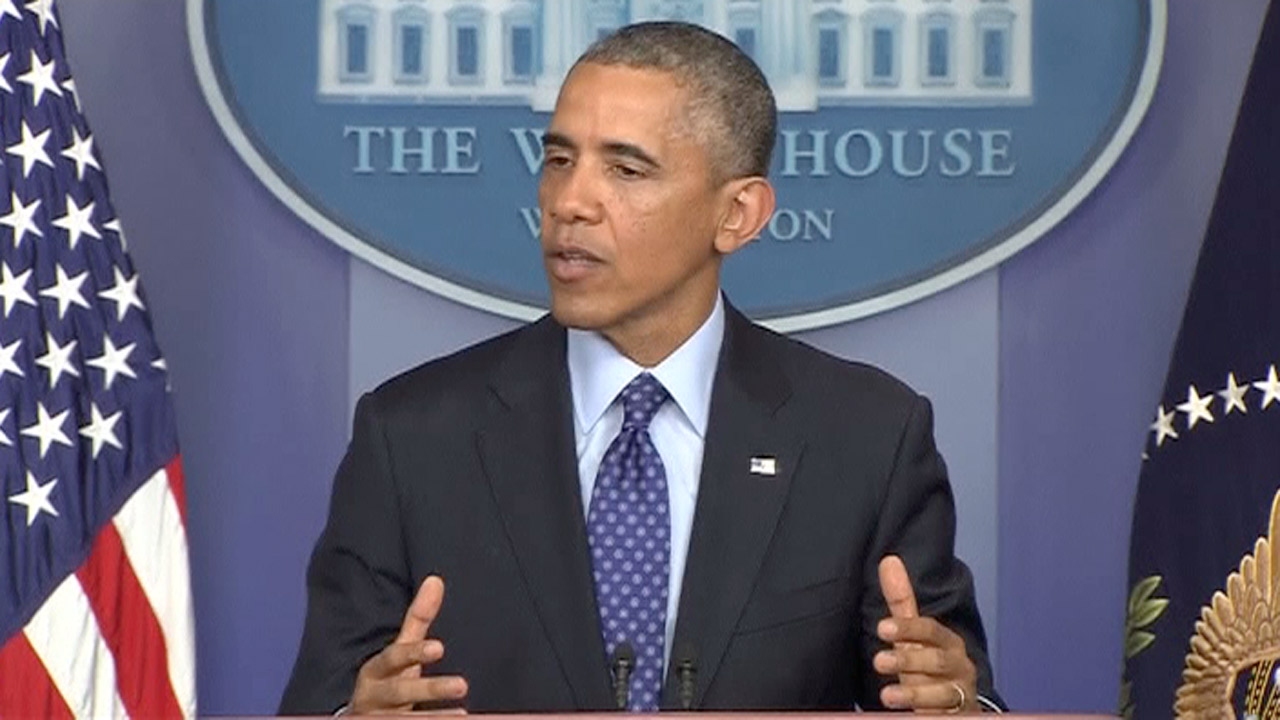 President Obama spoke and took questions on the situation in Iraq at the White House on Thursday. He said the U.S. is prepared to send up to 300 military advisers to Iraq but reiterated there would be no U.S. combat troops on the ground. (  / Associated Press)
BAGHDAD — Islamist insurgents continued to bear down on Iraqi forces Friday, seizing a former chemical weapons facility and battling for control of the country's largest oil refinery, as the spiritual leader of Iraq's Shiite Muslim majority called for the formation of a new "effective" government with broad support.
The al-Qaeda-inspired militants from the Islamic State of Iraq and Syria (ISIS), who launched a lightning offensive across northern Iraq last week, seized the former chemical weapons complex, which contains stockpiles of chemical munitions that are not considered usable, a State Department spokeswoman said. The destroyed facility was once part of deposed dictator Saddam Hussein's arsenal.
In a sermon read by a representative at Friday prayers in the Shiite holy city of Karbala, Grand Ayatollah Ali Sistani, the top Shiite cleric in Iraq, called on the country's newly elected parliament to start the process of forming a new government now that the results of April 30 parliamentary elections have been officially certified. The sermon contained thinly veiled criticism of Prime Minister Nouri al-Maliki, who has been widely blamed for the current crisis by failing to accommodate Iraq's Sunni minority during his eight years in power.
"It is necessary for the winning political blocs to start a dialogue that yields an effective government that enjoys broad national support, avoids past mistakes and opens new horizons toward a better future for all Iraqis," the reclusive Sistani said in the sermon delivered by his aide, Ahmed al-Safi.
President Obama also implicitly criticized Maliki on Thursday, calling on Iraqi leaders to "rise above their differences" and "govern with an inclusive agenda." But he stopped short of urging Maliki to step down.
Watch as Islamic militants parade in the northern town of Baiji where they took control of Iraq's largest oil refinery on Tuesday. They ride in vehicles adorned with the Islamic State's black banners. The video starts with animation depicting the ISIS logo. (  / AP)
State Department spokeswoman Jen Psaki confirmed that ISIS, a radical Sunni Muslim group formerly known as al-Qaeda in Iraq, "has occupied the Al Muthanna complex," a former chemical weapons facility about 36 miles northwest of Baghdad.
"We remain concerned about the seizure of any military site" by the group, she said in a statement. "We do not believe that the complex contains CW [chemical weapons] materials of military value and it would be very difficult, if not impossible, to safely move the materials."
According to the CIA, the facility was bombed extensively during the Persian Gulf War in 1991, ending its ability to produce chemical weapons. U.N. weapons inspectors subsequently destroyed equipment and stockpiles there, most of the complex was razed by the Iraqis, and the remainder was extensively looted, the agency said in a 2007 report.
However, the
CIA report
said: "Stockpiles of chemical munitions are still stored there. The most dangerous ones have been declared to the UN and are sealed in bunkers. Although declared, the bunkers contents have yet to be confirmed. These areas of the compound pose a hazard to civilians and potential blackmarketers." Among the chemical agents once produced at the Muthanna complex were mustard gas, sarin and VX, it said.
"Two wars, sanctions and [U.N. inspection] oversight reduced Iraqi's premier production facility to a stockpile of old damaged and contaminated chemical munitions (sealed in bunkers), a wasteland full of destroyed chemical munitions, razed structures, and unusable war-ravaged facilities," the report about the complex concluded.
Fighting continued between the Sunni militants and Iraqi forces for control of the country's largest oil refinery at Baiji, 140 miles northwest of Baghdad, the British Broadcasting Corp. reported. It was unclear who was in control of the refinery, Iraq's largest gasoline processing plant.
The loss of the refinery would mark yet another blow for Iraqi Prime Minister Nouri al-Maliki, the Shiite leader whom the United States is pushing to find a political solution to the Iraq crisis that threatens to engulf the entire Middle East. Maliki's top priority, however, is U.S. military aid.

How ISIS is carving out a new country
Militants were also fighting for control of the airport in the northern city of Tal Afar, which they seized earlier this week, the BBC reported.
Obama authorized additional military assistance for Iraq on Thursday but made clear that he will continue to hold back more substantive support, including U.S. airstrikes, until he sees a direct threat to U.S. personnel or a more inclusive and capable Iraqi government.
Obama said he would send up to 300 additional U.S. Special Operations troops to better assess the situation on the ground and to determine "how we can best train, advise and support Iraqi security forces going forward."
With the "situational awareness" provided by the advisers and with intelligence assets being increased in and around Iraq, Obama said, "we will be prepared to take targeted and precise military action if and when we determine that the situation on the ground requires it."
But "American combat troops are not going to be fighting in Iraq again," he said, a point he made repeatedly during remarks in the White House briefing room. "Ultimately, this is something that is going to have to be solved by Iraqis."
The administration is straddling difficult politics in Iraq and at home, seeking to answer Republican critics such as House Speaker John A. Boehner (Ohio) who claim that Obama is "taking a nap" while Iraq crumbles and to assure political supporters that he is not opening a new front in the Middle East.
In Iraq, U.S. diplomats are urgently pushing for a new government that can prevent a sectarian civil war in which Kurds move to protect their northern territory, estranged Sunnis join the militants, and the majority Shiites retreat into an Iran-backed fortress.
While Obama did not call directly for Maliki's departure, he made clear that the prime minister has not met the challenge of the current crisis.
"Right now is a moment where the fate of Iraq hangs in the balance," he said. "And the test for all of them is going to be where they can overcome the mistrust, the deep sectarian divisions, in some cases just political opportunism and say, this is bigger than any one of us, and we've got to make sure that we do what's right for the Iraqi people."
The United States has backed Maliki's leadership over the past eight years even as he shrugged off warnings about political inclusion and the resurgence of al-Qaeda in Iraq, a Sunni extremist organization that was reborn as ISIS in neighboring Syria's ongoing civil war.
Following elections in April, a new Iraqi parliament has until the middle of August to choose a government. U.S. diplomats, meeting this week with Maliki's political rivals, have pressed them to move much more rapidly to form coalitions and establish a parliamentary majority.
Those who say they will not support another government led by Maliki's Shiite alliance have been asked to propose alternatives.
Deputy Prime Minister Saleh al-Mutlak, a Sunni, said he met with U.S. Ambassador Robert Stephen Beecroft and Deputy Assistant Secretary of State Brett McGurk on Wednesday.
While "they didn't say it directly," Mutlak said, "between the lines they realize we can't sit together with Maliki" in a future government.
On Wednesday evening, Vice President Biden called Osama al-Nujaifi, the Sunni speaker of the previous parliament and an outspoken critic of Maliki.
Biden, according to Nujaifi spokesman Dhafer al-Ani, "didn't say he wanted Maliki out, but he said the United States didn't support Maliki. We made clear our position that we would not be part of a government headed by Maliki."
Forming a government after Iraq's last election, in 2010, took more than eight months; the U.S. goal now is that it happen within weeks. "Our consistent message to everybody is to keep it moving forward," said a senior administration official, one of several who spoke on the condition of anonymity to flesh out Obama's announcement.
"In the meantime," Obama said, "my job is to make sure that American personnel there [are] safe, that we are consulting with the Iraqi security forces, that we're getting a better assessment of what's on the ground and that we're recognizing the dangers of [ISIS] over the long term and developing the kinds of comprehensive counterterrorism strategy that we're going to need to deal with this issue."
Obama said he was sending Secretary of State John F. Kerry to the region this weekend to consult with other governments in the Middle East and Europe. Kerry is also expected soon to travel to Iraq for a face-to-face meeting with Maliki.
U.S. officials discussed the Iraq situation this week with officials from Iran's Shiite government on the sidelines of a meeting in Europe on the Iranian nuclear program.
"Our view is that Iran can play a constructive role if it is helping to send the same message to the Iraqi government that we're sending, which is that Iraq only holds together . . . if the interests of Sunni, Shia and Kurd are all respected," Obama said.
"If Iran is coming in solely as an armed force on behalf of the Shia . . . then that probably worsens the situation," he said.
Karen DeYoung, Anne Gearan and William Branigin contributed to this report from Washington. Daniela Deane contributed from London.
Liz Sly is the Post's Beirut bureau chief, and is currently covering the turmoil in the wider Middle East. Before joining the Post, she covered Iraq for the Los Angeles Times and the Chicago Tribune. She has over two decades experience as a foreign correspondent, based in the Middle East, Africa, China, South Asia and Europe.
Loveday Morris is a Beirut-based correspondent for The Post. She has previously covered the Middle East for The National, based in Abu Dhabi, and for the Independent, based in London and Beirut.